A pair of Michael Jordan sneakers sold for $ 1.47 million at auction last month, making them the most expensive sneakers ever to sell.
But the red and white Nike Air Ships worn in the 1984 Chicago Bulls season aren't the most expensive sneakers ever sold.
The rare athletic shoe market is attracting the attention of collectors around the world and record prices have been paid for the sneakers.
Sneakers have transcended sports and are now luxury items in major fashion shows as well as coveted pieces in the art world. For example, Sotheby's, the auction house that regularly sells multi-million dollar masterpieces of art, held its first auction entirely dedicated to sneakers in 2019.
1.Kanye West's Nike Air Yeezy, ($ 1.8)
Sotheby's record-breaking sale of the 2008 Kanye West Nike Air Yeezy Grammy prototype, sold for $ 1.8 million through a private sale on April 26, 2021.
These are the most expensive sneakers ever sold in a private sale, according to Guinness World Records.
Kanye West wore the all-black pair of Nike Air Yeezy 1 during a performance at the 2008 Grammy Awards. The shoes were never marketed by Nike and they quickly became one of the most sought after sneaker samples by collectors. and the public.
2. Nike Air Ships from Michael Jordan ($ 1.47)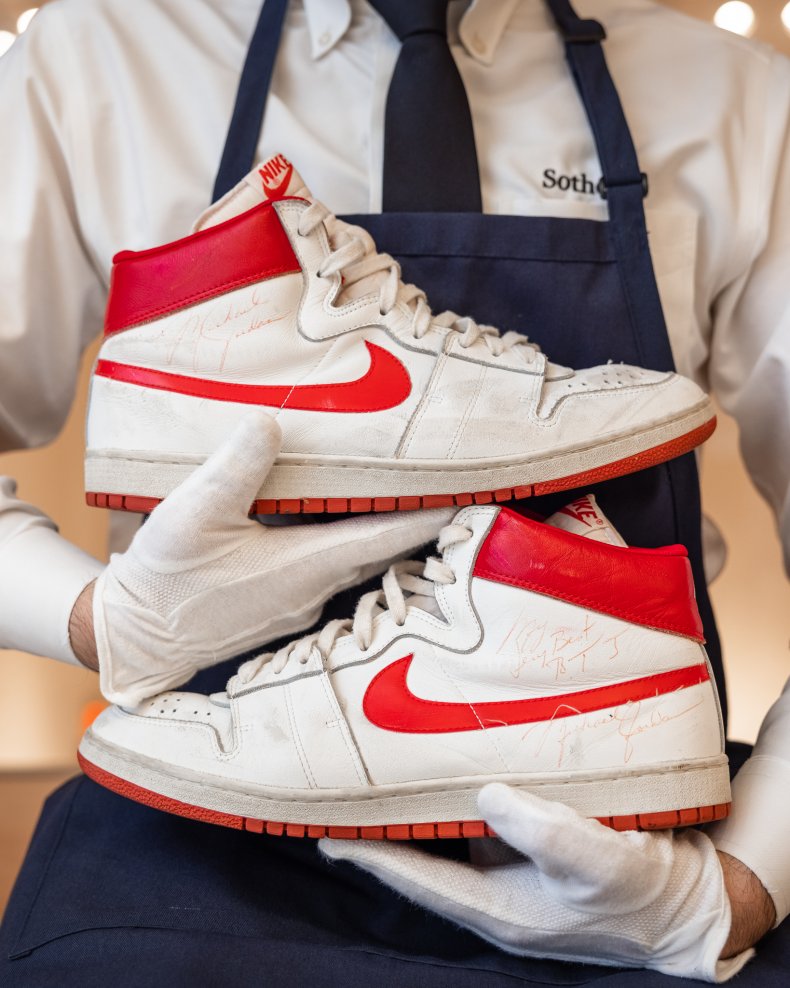 The Nike Airship worn by Michael Jordan in 1984 are the most expensive sneakers ever sold at auction.
Collector Nick Fiorella paid them $ 1,472,000 at Sotheby's Las Vegas on October 24, 2021.
Brahm Wachter, head of Sotheby's Streetwear and Modern Collectables, said in a statement that the sale "confirms the position of Michael Jordan and the Air Jordan franchise at the top of the sneaker market."
In 1984, Nike gifted Michael Jordan with a signature line of shoes and clothing, which Sotheby's said was a pivotal and unprecedented move to get Jordan to sign with Nike. "This paved the way for a lot of player collaborations that we are seeing now," Sotheby's says.
Recent Netflix series The last dance also renewed interest in the basketball legend.
3. Nike Air Jordan 1 High Sneakers ($ 615,000)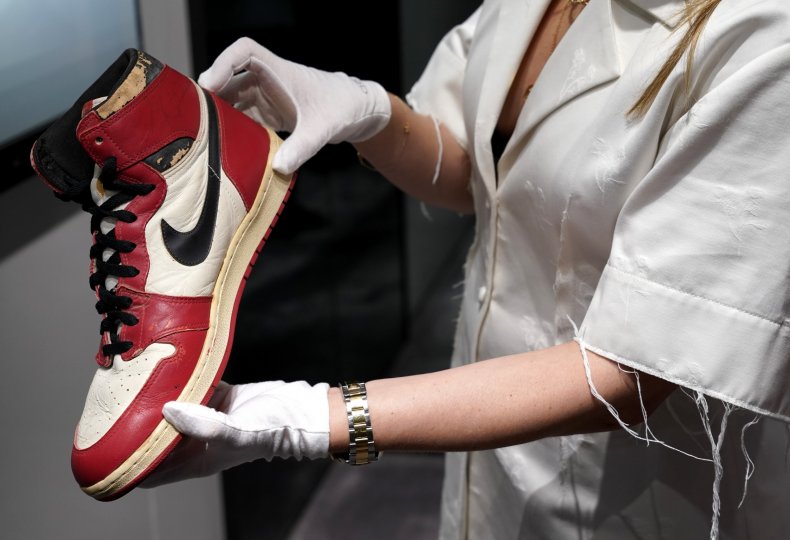 Another pair of old Michael Jordan sneakers is at # 3.
The shoes, worn by the Chicago Bulls star in an exhibition game in 1985, were called "rarer of the few" when they sold for $ 615,000 in August 2020 at an auction sale. Christie's online auction.
4. Nike Air Jordan 1, ($ 560,000)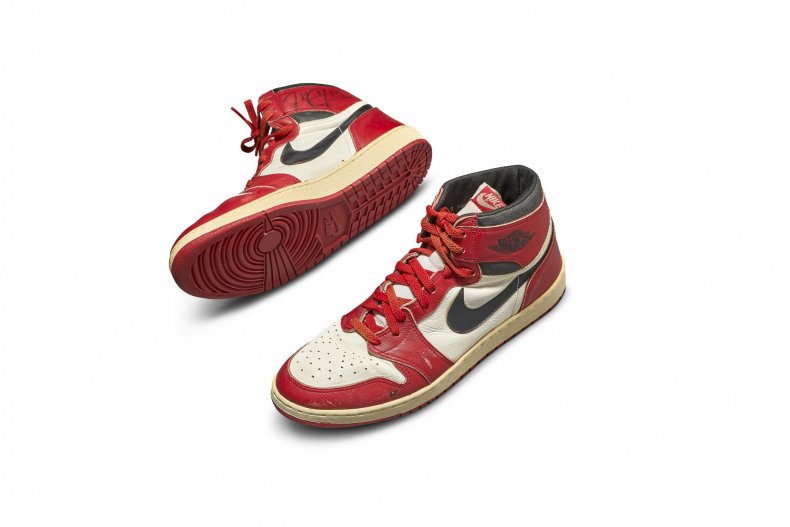 Proving once again the historic value of design, these Nike Air Jordan 1s were sold by Sotheby's at auction in New York City for over half a million dollars in 2020.
The 1985 sneakers worn by the game, signed by Jordan, are in the Chicago Bulls' colors of red, white and black, and sold for more than three times their original estimate.
5. 1972 Nike Waffle Racing Flat "Moon Shoe" ($ 437,500)
The most expensive sneakers to ever auction, according to Guinness World Records.
On July 23, 2019, the 12 original Nike Waffle Racing flat shoes, the "Moon Shoes", sold at Sotheby's New York for $ 437,500.
Buyer Miles Spencer Nadal said in a statement, "I think the sneaker culture and collection is on the verge of a breakout moment."
The unworn shoes were handcrafted by Nike co-founder and University of Oregon track coach Bill Bowerman, and only a handful of the original 12-pair pack remain.
Guinness World Records said the owner plans to "display the sneakers – along with 99 other pairs acquired from the sale – at his Dare to Dream car museum in Toronto, Canada."
6. Michael Jordan Olympic Converses ($ 190,373)
A pair of Michael Jordan Olympic Conversers used and autographed by the future NBA star in the 1984 Olympic basketball final against Spain at the Forum in Inglewood, Los Angeles, was auctioned for $ 190,373 in 2017.
They are said to be the last pair Jordan wore in a match as an amateur and also the last time he wore Converse in an official match.
7. Air Jordan 11 "Space Jam" Sample ($ 176,400)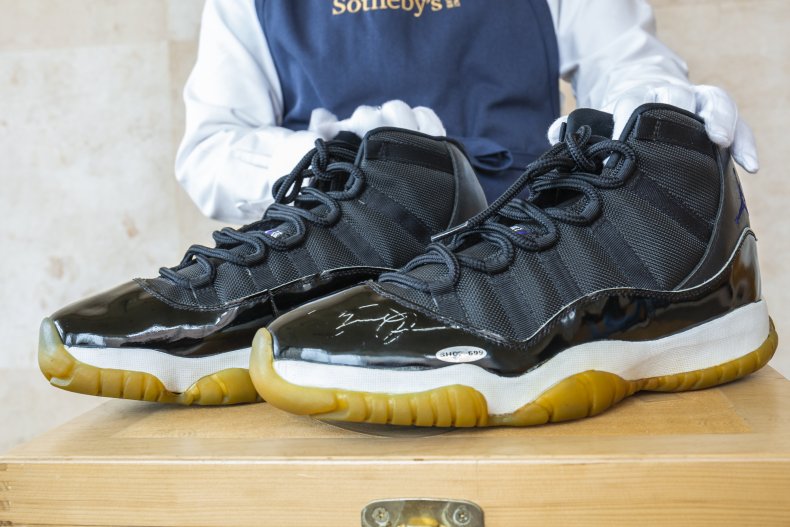 Michael Jordan's Air Jordan 11 "Space Jam" sample was auctioned off by Sotheby's for $ 176,400 in July 2021.
The sneakers were made for Michael Jordan to wear in the 1996 Space jam movie.
8. Air Jordan 12 Flu Game ($ 104,765)
The Air Jordan 12 "Flue Game" shoes that Michael Jordan wore to the iconic 1997 NBA Finals, popularly known as the "Flu Game," sold in 1993 for $ 104,765.
Basketball fans all over the world remember the historic game where Michael Jordan eclipsed his rivals despite the flu.
It was later revealed in The last dance documentary series that Jordan did not have the flu but food poisoning. However, the many "flu game" theories will only increase the value of Air Jordan 12 shoes.
9. Nike Air Force 1 "Entourage x Undefeated x Fukijama Gold" ($ 88,200)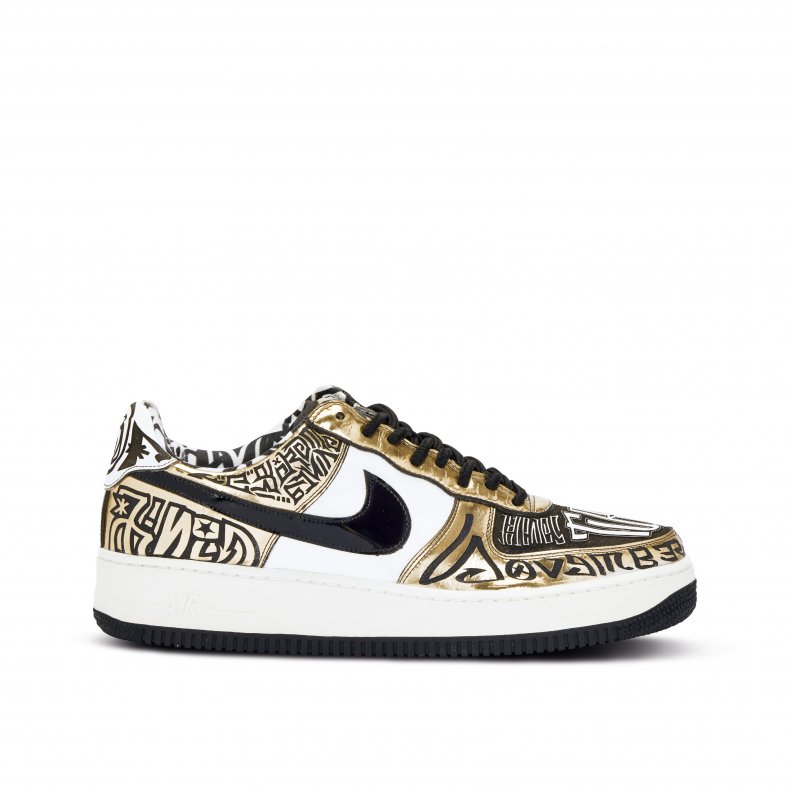 The "Fukijama Gold" featured on HBO's Entourage, "What About Bob? In season three. Thanks to the popularity of the show, Nike created a real pair in 2009. A gold version of their popular Air Force 1 shoe.
In the 2006 episode, Vincent Chase's childhood friend Turtle can't get a pair of the coveted Air Force 1 created by an artist named Fukijama. Turtle decides to camp at the UNDEFEATED location in Santa Monica, but sees DJ AM (RIP) securing the last pair of shoes and leaves. Vincent surprises him by sending him to look for a 1 on 1 pair himself in Fukijama. Sotheby's sold a pair at auction in March 2021 for $ 88,200.
10. Nike Air Jordan IV Retro Eminem Bis ($ 56,700)
A 2017 model of the Nike Air Jordan IV Retro Eminem Bis sold for $ 56,700 at Sotheby's.
It was modeled after the 2005 version of blue, red and black sneakers that Nike and rapper Eminem created to celebrate the 2004 Eminem album. Bis.
Due to the popularity of the original version, the retro pairs of Nike Air Jordan IV Eminem Bis were reissued in 2017 to coincide with Eminem's The comeback album.